Accreditation by the deutsche Akkreditierungsstelle GmbH (DAkkS) [German accreditation body] according to DIN ISO/IEC 17025
In the area of EMC, we are accredited for the current standards of the industrial, aerospace, shipbuilding and military sectors.
In the area of environmental simulation, our accreditation includes mechanical-dynamic and climatic environmental simulation tests, such as climatic testing, shock and vibration testing, selected leakage tests and material tests as well as corrosion tests. We are flexibly accredited within these test areas and therefore not restricted to a limited list of test standards.
In addition, we are also accredited in the area of electrical safety.
You can download the accreditation certificates for environmental simulation laboratory and EMC laboratory here.
Certification of DNV GL as "Approved Testing Laboratory" for all tests according CG-0339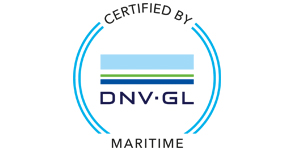 Treo performs accredited tests on products for type approvals according to guidelines of different classification societies.
Both laboratories were DNV GL certified until DNV GL stopped the certification process of laboratories. Of course Treo still has the same competence and therefore Treo's tests are fully recognized by DNV GL and the other classification societies.
This certificate is no longer valid but gives you an overview of the according testing scope.
Safran Certificate of Approved Supplier
Treo is approved as a Safran testing laboratory.
You can download the certificate here.
Ship building: U.S. Coast Guard authorization
The U.S. Coast Guard confirms Treo - Labor für Umweltsimulation GmbH as approved sub-test laboratory for environmental simulation tests of their equipment for the prevention of water pollution. This includes for example 15 ppm bilge separators and bilge alarm systems as well as oil concentration measuring systems in the bilge water area.
The approval includes the tests MEPC.107(49) Part 3 and MEPC.108(49) Part 2 and is valid in cooperation with our partner laboratory GBA - Gesellschaft für Bioanalytik Hamburg mbH, which has been approved for performance tests of systems for the prevention of pollution in accordance with the requirements of 46 U.S. Code of Federal Regulations (CFR) Part 162.050-15.
You can download the approval document here.