Planes are the safest means of transport, even if they don't feel that way to many: nearly one third of Germans is afraid of flying. A look at the statistics could help to reduce this fear. The probability of a fatal accident in an aircraft is just 1:7.22 million. By comparison, the risk of death for pedestrians is ten times higher. Better to fly then!
We play a key role in ensuring that flying is so safe. Before any new part or component is launched on the market and installed, it has to undergo accredited testing procedures – for example in one of our laboratories.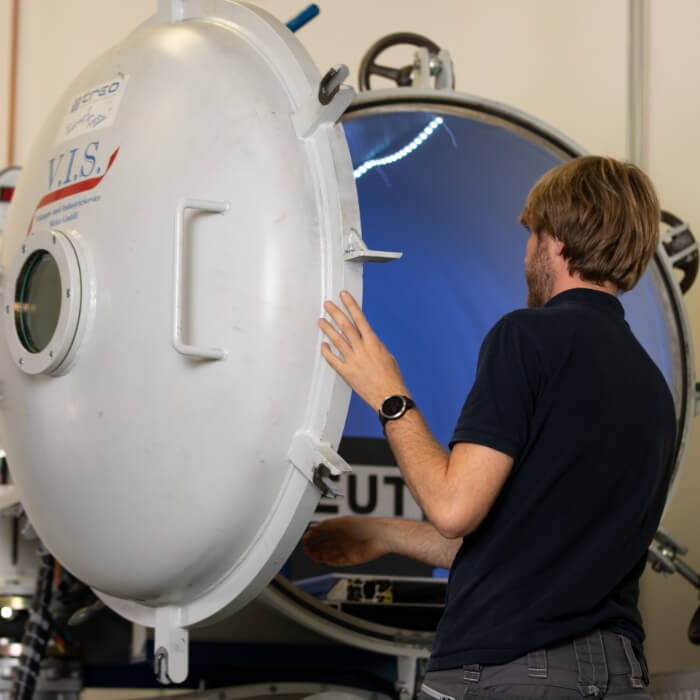 We have many years of experience in the aviation and aerospace industry and also generate new expertise every day through our work, from which our customers are the first to benefit. Because we test tomorrow's technology in our laboratories, we need to stay one step ahead of current technology – which we do with our innovative processes.
Aircraft components and equipment have to comply with many different demands.
During flight operations, they are exposed to extreme loads, such as oscillation, vibration and the weather. In addition, sudden pressure drops in the cabin can lead to complications. We determine whether our customers' products can withstand all these stresses. The test processes are carried out in accordance with standards and regulations. We support our customers with Qualification Test Procedures (QTP) through to Qualification Tests (QT) and the final Qualification Test Reports (QTR).
Ready for take-off with EMC and environmental simulation tests
Environmental simulation, material testing, electrical safety and electromagnetic compatibility: our great advantage is that we can simulate all situations with our state-of-the-art equipment in modern laboratories and perform standards-compliant testing of all components.
In our vibration tests, we simulate flight operation loads on a shaker and check whether the object being tested can withstand them. We can also simulate complex pressure loads in our laboratory. We test cabin electronics, control devices or the entertainment system for electromagnetic compatibility (EMC), simulating effects that can occur in the on-board electrical system in the event of a lightning strike and cause damage.
Testing standards in aviation
An exemplary selection:
RTCA DO-160
RTCA DO-313
RTCA DO-357
ABD0100
D6-16050-5
D6-36440
Even large projects with extensive test requirements are no problem thanks to our comprehensive range of tests. This makes our work flexible and very efficient.
Many customers bring us in at an early stage of the development process to help identify and get rid of any weak points well in advance. We work alongside the product development team with our testing services.
This saves costs and guarantees safe flight operations.
Do you have any questions?
Contact us!

Testing? Treo.
OUR INDUSTRIES