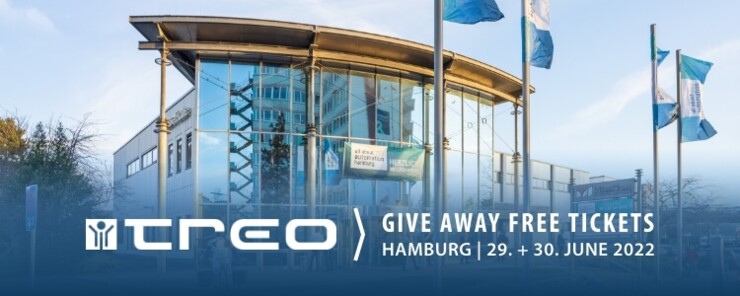 all about automation in Hamburg is a small but very select trade fair. Manufacturers, developers and everyone involved with systems and components in the field of industrial automation meet here in a relaxed atmosphere. The Treo team will also be attending and greatly looks forward to your visit.
The all about automation trade show in Hamburg has become very popular. For six years now, suppliers, users and those interested in technology have been coming to the exhibition centre in Hamburg-Schnelsen to enjoy the familiar atmosphere and exchange information and ideas. This year's show – the first after a two-year break due to the pandemic – will feature 140 exhibitors who are presenting the latest developments in systems, components and software for industrial automation and industrial communication.
What makes this exhibition special is that it is a compact show that attracts expert companies and trade visitors from the region. "I really like the fair. It is clearly laid out, you can get from one stand to another quickly and it has a pleasant atmosphere. Also, it's so easy to start up a conversation with visitors", says Hanno Frömming, Managing Director of Treo. The regional fair in the north of Hamburg offers a level of convenience and accessibility that isn't found at larger trade fairs. The stands are all the same size, the distances are short and visitors can stroll comfortably around the exhibition centre. Another bonus: food and drink in the coffee lounges are free of charge. There are also inspiring lectures in the Talk Lounge, where experts provide a wealth of information about the latest developments and technologies in the automation industry.
As an accredited testing service provider, we offer our customers a comprehensive and individual range of services to test products and components according to the required standards starting from the development phase. From environmental simulation, material testing, electrical safety or electromagnetic compatibility (EMC), the tests carried out by our test engineers help to make systems and components used in industrial automation safer and more reliable; they help to detect existing weak points at an early stage and remedy them in good time.
As our guest, the trade fair is FREE of charge for you:
Visit us at stand EG-403. The trade show is open on Wednesday, 29 June from 9 am to 5 pm and Thursday, 30 June from 9 am to 4 pm. Managing Director Hanno Frömming and Head of Sales Lars Meyer will be on site and look forward to interesting discussions with visitors.
(A regular day ticket costs 20 € and can be purchased on site.)
Photo: All About Automation 2020, Hamburg - Patrick Lux, patrick-lux.de
---