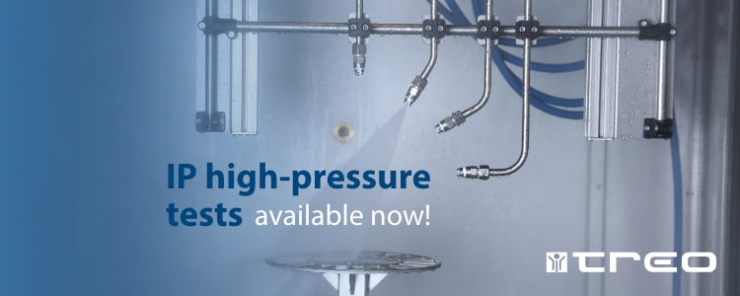 Starting right now, we can also offer you the IPX4K, IPX6K and IPX9K tests according to ISO 20653 as well as IPX9 test according to DIN EN 60529 in our laboratory.
We have modernised our equipment in the area of IP protection class testing: thanks to the newly installed state-of-the-art IP chamber, we can now offer you the complete range of IP tests.
In contrast to the IPX4 and IPX6 tests, the (K) indicates an additional requirement, usually appearing as increased pressure. IPX9 and IPX9K are carried out at high pressure and significantly increased water temperatures. This simulates, for example, the protection of an enclosure when a pressurised water surge occurs when driving through a puddle (IPX4K/IPX6K) or cleaning a vehicle with steam jets (IPX9/IPX9K).

These tests were originally developed in the automotive industry, but can be transferred to many everyday applications. For example, it makes sense to test an automatic parking meter or an e-bike parked at the side of the road according to IPX6K.
With the new equipment, we can also carry out the previously available tests faster and more flexibly.
We can reproduce the following standards in our laboratory: DIN EN 60529, ISO 20653, RTCA-DO-160, MIL-STD-810, JIS D 0203, DIN EN IEC 60034-5 and all other standards that refer to the procedures listed in the above standards.
To mark the launch of the new chamber, you will receive a 10 %* discount on any IP test you commission by 30 June 2021. Please enter the following code with your order: TREOIP2021
Have we sparked your interest? Then please feel free to enquire directly with us. Your contact person is Lars Meyer.
*Discount code conditions:
a) The discount code is only valid for new projects, i.e. those that were not yet commissioned as of 01 May 2021.
b) Only one discount code per company may be redeemed.
c) Subcontracts are excluded from the discount.
d) The discounted test must be commissioned and started by 30 June 2021.
e) The combination with discounts e.g. from existing framework agreements is possible.
---