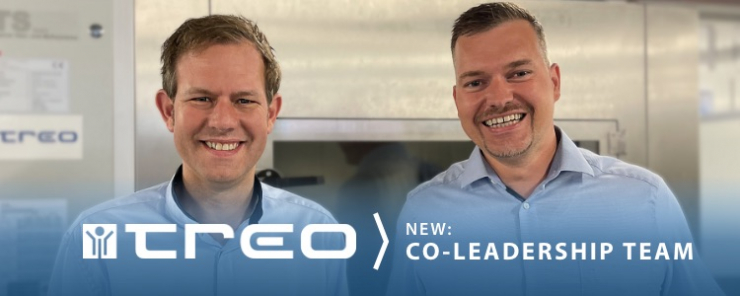 New co-leadership at Treo: Thomas Kühl joined our company's executive team in July. Together with Dr Hanno Frömming, he will be setting the sails for the future.
New location, new services, new strategic focus: we are firmly on course for growth, which is why we have brought new, additional expertise on board. Thomas Kühl and Dr Hanno Frömming are now jointly in charge of Treo in a co-management team. "After opening our new laboratory in Neumünster and expanding the range of tests we offer, we now want to grow further. This focus is reflected in the new addition to our leadership team", says Frömming.
So what does the decision to have two managing directors and their joint competencies mean in practice? "We have divided up the areas of work. Each has his own specific focus." Dr Hanno Frömming will oversee technical development, the laboratories and services. His new partner, Thomas Kühl, will be in charge of commercial matters. There are clear additional advantages for clients: even more time and know-how for their needs. "Everyone benefits", says Frömming, "with his expertise, Thomas Kühl is the ideal addition to our company."
Thomas Kühl, 40, has built his mature expertise in a number of positions in Germany and abroad. He comes from Potsdam and studied business management. Prior to joining Treo, Kühl headed the finance, accounting and controlling division at paper manufacturer Steinbeis. "Treo is an enterprise with an exciting perspective", says the businessman, commenting on his move. "The company has grown steadily and developed very well in recent years. Now the next growth steps are coming up, and I'm very excited to be a part of this future."
Welcome to the team Thomas, we look forward to working together!
---